Page 3 of 3 •

1, 2, 3



Heartgold- Akuma - 5414 2721 4711
Platinum- Akuma - 4598 6152 6456
Pearl- Riku - 1078 3260 9431

PokeBreederKuma




Post Count :

13


Age :

25


Shaycoins :

2332


Registration date :

2013-09-29



What do you guys think of this possible leak?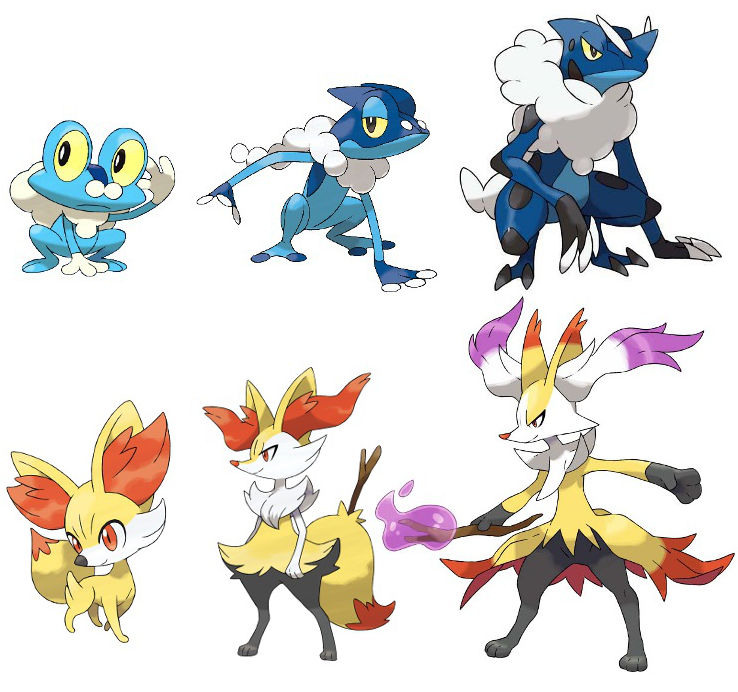 Personally I think it seems pretty legit but obviously no guarantee... Froakie's final evolution here matches the description of the leak from pokebeach (which obviously still isn't 100% accurate but for the sake of rumours..)
"Reconfirmation that Froakie's final evolution is Water/Fighting. It looks similar to a poison dart frog. The dark blue now takes over its body almost entirely. There are a few even darker (almost black) spots on his sides and face and it gains more of the bubble foam around its neck and down the back. It's also a bit bulkier. It uses its hind legs a lot and has kicking attacks." - pokebeach user or whatever
I can deal with that as Fennekins final. Not my fav, and I seriously wanted Fennekin's chain to be on four legs but I guess that's not happening.. Also from the looks of it it seems like Fennekin's line is Fire/Psychic. Still wanna see what Chespin will turn out to be.
AGAIN this is all a romour.. for now. We'll see how things turn out hopefully soon :Y
EDIT
so I don't double post C:
So the images above were proven to be fake. nbd, except I was seriously liking the froakie evo line... Pokemon best make it good, as well as the other starters.
In other news, Pokemon just released some news today (Oct 2nd) that charizard will actually have TWO different mega evolutions- one for X and one for Y. You can see that and a list of all of the known mega evolutions so far on
this
page.
ALSO this is from the rumour mill aswell, but it seems like a while ago an image leaked out showing all of the possible mega evolutions. Seems legit considering it has all of the previously revealed mega's so here's that picture:
Thoughts? Personally I think if this is a real list, I'm DISAPPOINTED BECAUSE ARCANINE ISN'T ON IT but I can deal since poor Arcanine is monotype fire and not always the best pokemon but I'm still sad. ANYWAYS I am however happy if this is real because I would love to see a Zebstrika, Luxray, Zangoose and Dragonite mega. Also, I'd be very very pleased if they found a way to make Typhlosion a mega with dual type... that would make me so happy :'>
So what do you guys think about these rumours? What do you think of Mega Charizard X- and his dual Fire/Dragon-ness and everything? And seriously, I pre-ordered X anyways, but why is Y getting so jipped???
oh yeah and there's also
this
possibly real scan... :Y
Y doesn't get jipped (whatever that means), X's M-Charizard gets dual-type Fire/Dragon (and wicked black and blue colors) but Y gets Drought which is awesome regardless. Permanent Sun is fantastic.

It's too bad X's one looks better than Y's one. It's also too bad Y's the one that gets all the reveals apparently.

Also X's M-Mewtwo looks awful because Y's M-Mewtwo is the one that was revealed and X's one looks like an ape or something. Also it gains a Flying weakness. Also Steadfast vs. Insomnia, I don't know which is better tbh

Also also is it just me or does M-Garchomp look like an Evangelion?

Also also also when you get the game, don't forget to pick up the Torchic over Nintendo Network! Apparently that's the only way you can possibly get Blazikenite.
i'm gonna reach for the stars
(although they look pretty far)
i've never felt like this
i'll keep on running

i've got it in my sight
the colors feel so right
You know, I've never noticed until now, but there's an updated type chart on the Pokemon X and Y page.
http://www.pokemonxy.com/en-us/pokemon_101/type/
Or, a link to the PDF:
http://www.pokemonxy.com/_ui/img/_en/art/Type-Matchup_chart_EN.pdf
Fairy-type moves are super-effective against Fighting, Dragon, and Dark, making Xerneas's potential moves super-effective against Yveltal. Fairy-type moves are not very effective against Fire, Poison, and Steel.
Fairy-type Pokemon are resistant to Fighting, Bug, and Dark, and are
completely immune
to Dragon. Fairy-type Pokemon are weak to Poison and Steel.
Also, did you know Ghosts are immune to moves that force a retreat? I had no idea. Similarly, Grass-types are immune to powder and spore moves.
i'm gonna reach for the stars
(although they look pretty far)
i've never felt like this
i'll keep on running

i've got it in my sight
the colors feel so right
Yeah i saw that before but it didn't cross my mind to post it here xD All those changes are going to take a while to get used to >_>
Anyways, quick update on mega pokemon: Mega Gengar, Aerodactyl and Abomasnow are a thing.
ALSO pokemon plushes, figurines and other toys are going to be released alongside the games. They've included most of the eeveelutions, except for sylveon, so I'm guessing they might be saving that for releasing it in a two pack alongside another eeveelution (that they don't wanna reveal yet) ->
https://www.youtube.com/watch?v=pZ79uHBpxJ8


Last edited by Rk9 on Fri Oct 04, 2013 1:43 pm; edited 1 time in total
That's awesome RK9! I still don't know how I feel about the mega evolutions but I'm still pumped for this game.

Shay

The Super Trooper





Post Count :

262


Shaycoins :

4960


Registration date :

2008-12-24



Page 3 of 3 •

1, 2, 3
---
Permissions in this forum:
You
cannot
reply to topics in this forum